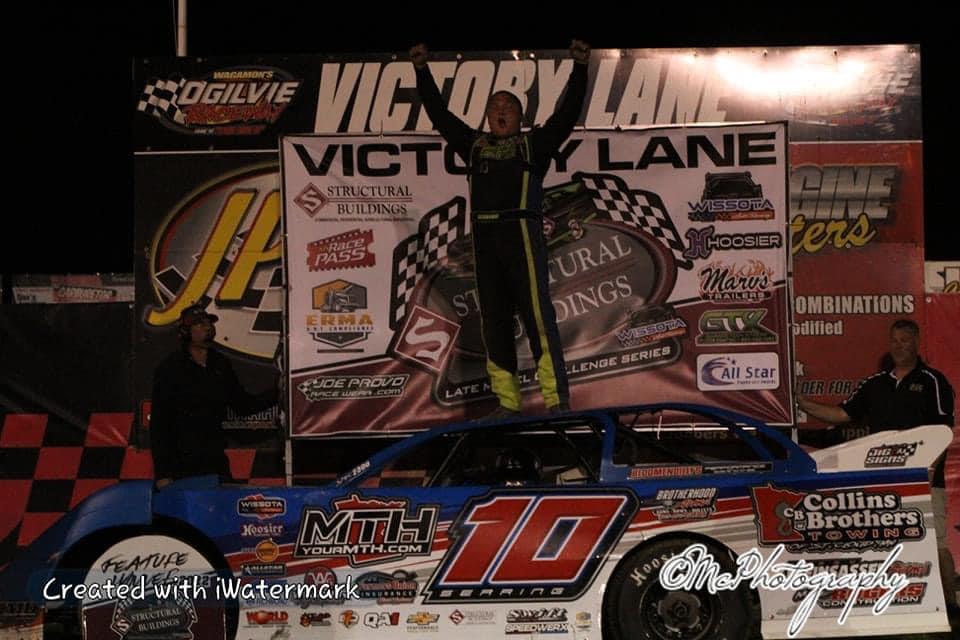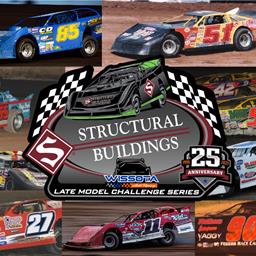 6/29/2022
Wissota Late Model Challenge Series
---
SEARING BLASTS TO STRUCTURAL BUILDINGS LATE MODEL WISSOTA CHALLENGE SERIES WIN AT OGILVIE RACEWAY
OGILVIE, MN (JUNE 25, 2022) – After a week with searing temperatures over 100-degrees, it was only fitting that Cole Searing would turn in a hot run in winning the 40 lap Structural Buildings WISSOTA Late Model Challenge Series race at Ogilvie Raceway.
Despite significant rains the previous two days, Ogilvie Raceway was prepped and ready to go for the 31 cars that competed to make the 25 car main event. Travis Budisalovich and Searing made up the front row as the green flag waved. Budisalovich held the lead momentarily, but by the completion of lap one, Searing planted himself in the lead. A handful of laps in, point leader Pat Doar brought out a caution as he slowed on the track, before dropping out of the race. On the restart, Josh Zimpel and Jared Zimpel spun exiting turn four to bring out another yellow flag. Once things got rolling again, so did Searing as he stretched his lead to a full straightaway near the midpoint of the race. Meanwhile, Budisalovich and Jon Tollakson raced for second in a mostly side-by-side battle.
Just as it appeared to be smooth sailing for Searing, his comfortable lead was erased when Max Nelson spun out of turn four with just 7 laps remaining. Searing took control of the restart as Budisalovich and Shane Edginton fought for second. That battle took the pressure off Searing as he completed the final laps untouched to bank the win. Budisalovich held off Edginton for second, with Darrell Nelson and Kevin Eder rounding out the top five. Danny Vang finished eighth as he picked up the Garage Tech X-treme Rookie of the Race and the $300 bonus.
With the win, Searing is now tied with Pat Doar for the lead in the Point Standings. Cole Schill and Budisalovich are tied for third just 5 points behind the top pair.
The next event for the Structural Buildings WISSOTA Late Model Challenge Series will be Friday July 8th at Brown County Speedway in Aberdeen, SD as a part of a three day South Dakota swing. For more information on the Structural Buildings WISSOTA Late Model Challenge series, visit www.wissotachallengeseries.com.
Structural Buildings WISSOTA Late Model Challenge Series
Structural Buildings Inc A Feature (40 Laps): 1. 10-Cole Searing[2]; 2. 31-Travis Budisalovich[1]; 3. 5E-Shane Edginton[5]; 4. 44-Darrell Nelson[6]; 5. 22E-Kevin Eder[10]; 6. 32T-Jon Tollakson[3]; 7. 6M-Jeff Massingill[9]; 8. 47-Danny Vang[19]; 9. 27-Jake Redetzke[7]; 10. 32-Jordan Tollakson[13]; 11. 5-Josh Zimpel[17]; 12. 1 2-Bryce Sward[4]; 13. 85-John Kaanta[14]; 14. 32X-Max Nelson[23]; 15. 27Z-Jared Zimpel[21]; 16. 15-Ryan Mikkelson[12]; 17. 2M-Dave Mass[16]; 18. 17-Deven VanHouse[18]; 19. 30-Kevin Burdick[22]; 20. 44-Cole Schill[24]; 21. 51-Chuck Olson[11]; 22. 7S-Sam Zender[20]; 23. (DNF) 11-Pat Doar[8]; 24. (DNF) 73-Larry Fitzsimmons[15]; 25. (DNF) 26D-Chad Dawson[25]
GTX Rookie of the Race: Danny Vang
ERMA B Feature (15 Laps): 1. 47-Danny Vang[6]; 2. 7S-Sam Zender[4]; 3. 27Z-Jared Zimpel[3]; 4. 30-Kevin Burdick[2]; 5. 26D-Chad Dawson[5]; 6. 31T-Trent Follmer[11]; 7. (DNF) 32X-Max Nelson[8]; 8. (DNF) 44*-Cole Schill[1]; 9. (DNF) 29F-Dave Flynn[12]; 10. (DNF) 76-Dustin Johanneck[7]; 11. (DNF) 55S-Ryan Schaufler[13]; 12. (DNS) 7-Scott Lehn; 13. (DNS) 18L-Steve Laursen
Joe Provo Racewear Heat 1 (12 Laps): 1. 10-Cole Searing[8]; 2. 1 2-Bryce Sward[1]; 3. 85-John Kaanta[3]; 4. 51-Chuck Olson[6]; 5. 30-Kevin Burdick[5]; 6. 7S-Sam Zender[4]; 7. 76-Dustin Johanneck[2]; 8. (DNF) 55S-Ryan Schaufler[7]
AllStar Trophies and Awards Heat 2 (12 Laps): 1. 31-Travis Budisalovich[1]; 2. 5E-Shane Edginton[2]; 3. 27-Jake Redetzke[6]; 4. 5-Josh Zimpel[3]; 5. 2M-Dave Mass[8]; 6. 27Z-Jared Zimpel[7]; 7. 32X-Max Nelson[5]; 8. (DNF) 29F-Dave Flynn[4]
Marvs Trailer Sales Heat 3 (12 Laps): 1. 32T-Jon Tollakson[1]; 2. 6M-Jeff Massingill[2]; 3. 22E-Kevin Eder[4]; 4. 15*-Ryan Mikkelson[6]; 5. 73-Larry Fitzsimmons[8]; 6. 47-Danny Vang[5]; 7. 18L-Steve Laursen[7]; 8. 7-Scott Lehn[3]
Structural Buildings Inc Heat 4 (12 Laps): 1. 11-Pat Doar[1]; 2. 44-Darrell Nelson[7]; 3. 32-Jordan Tollakson[2]; 4. 17-Deven VanHouse[3]; 5. 44*-Cole Schill[6]; 6. 26D-Chad Dawson[4]; 7. (DNF) 31T-Trent Follmer[5]
---
Article Credit: Dean Reller
Submitted By: Camryn Sullivan
Back to News