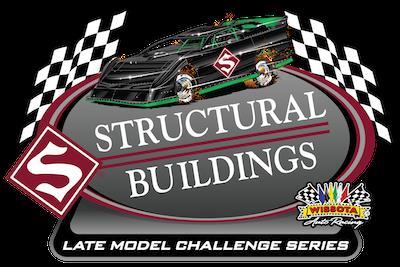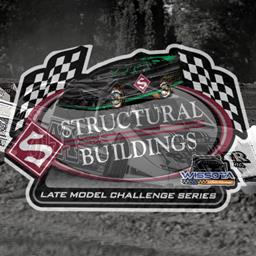 6/8/2021
Wissota Late Model Challenge Series
---
An Exciting 10 Days, 7 Races, 6 Cities, 3 States
St Cloud, MN (June 8, 2021) - The Structural Buildings WISSOTA Late Model Challenge Series finished a long 10 day series in 3 states and 6 cities. Sixty-Nine different drivers competed in at least one race in the first 10 days and a total of over 540 laps were raced in the Structural Buildings WISSOTA Late Model Challenge Series.
Princeton Speedway hosted the first race of the Structural Buildings WISSOTA Late Model Challenge Series with Darrell Nelson picking up the win. Going into night two at Rice Lake Speedway, the Structural Buildings WISSOTA Late Model Challenge Series picked up 8 more cars for an action filled quick night of Saturday night racing. The veteran out of New Richmond, WI, Pat Doar, picked up the win with the first night's winner Nelson coming in 4th.
The Structural Buildings WISSOTA Late Model Challenge Series rules state that one show is dropped, so with this rule Nelson and Doar were tied going into night 3 at the Granite City Motor Park in Sauk Rapids, MN. The drama filled event found the 6M machine of Jeffrey Massingill in front of the Structural Buildings victory lane followed by Elk Mound, Wisconsin's, John Kaanta.
After a short 2 days to regroup and take a breath, the Structural Buildings WISSOTA Late Model Challenge Series headed west with point leader Darrell Nelson out front. For the first time in 3 years the Structural Buildings WISSOTA Late Model Challenge Series drivers invaded the Dakota State Fair Speedway on Thursday, June 3, and found it's fourth different winner of the season in the number 12 of Chad Becker. Structural Buildings WLMCS regular Jake Redetzke would be the only other to break the top 5 on night 1 of 4 in South Dakota.
The Brown County Speedway hosted the Structural Buildings WISSOTA Late Model Challenge Series on Friday, June 4th with 26 cars with John Kaanta showing fans how to change tires. Kaanta had a commanding lead before the left rear went flat on the 85 machine during a mid race restart. Shortly following his return to the track, he found himself heading back to the work area with a right rear flat. Redetzke then took a commanding lead until a few late race cautions changed the race track enough that he found himself left on the high side as others were digging deep on the bottom side of the track. Chad Becker would make a last lap attempt at the lead, but ultimately fell short to first time Structural Buildings WISSOTA Late Model Challenge Series winner Dustin Arthur. Arthur would make it 5 different winners in 5 nights of racing.
The big show returned to Dakota State Fair Speedway as the Structural Buildings WISSOTA Late Model Challenge Series drivers raced for the $10,000 top spot. The fans found their way to the grandstand as well despite the sweltering heat, and they watched an exciting night and exciting format. The first heat race was lined up by pill draw, but the second was a complete invert based on passing points from the first heat. Chad Becker found himself deep in the field in heat race set 2 after he won the heat race set 1 passing points. The story of the night was the top 5 being swallowed up by local drivers with Jeffrey Massingill in 6th followed by Redetzke and Nelson. Redetzke had made a last minute entry to the racing surface after having to replace the entire side of the car following heat race set 2. Kaanta would go on to round out the top 10. Becker took the lead early and held on to take home $10,000.
Scott Ward from Watertown, SD was looking to have some good luck going into the Sunday night event at Casino Speedway. After multiple DNFs in each show earlier in the weekend, he found himself with just the luck that he needed. Seventeen cars would go on to put on the most exciting show of the season so far with slide job after slide job and multiple lanes of racing all night. Jeffrey Massingill would push his 6M machine to the limit in the later laps of the race to try to chase down Scott Ward, but would ultimately come up short. Becker and Morgan Ward rounded out the top 5 followed by Kaanta, Nelson, and Redetzke.
Dirt Track Supply has awarded $350 in certificates to 7 drivers. Max Nelson, Cody Martin, Dan Dowling, Blake Swenson, Cole Searing, Gale Vogt, and Chad Becker all picked up a $50 certificate to Dirt Track Supply. This is the first season that Dirt Track Supply has award the Structural Buildings WISSOTA LMCS hard chargers with a certificate. The overall season hard charger will receive a $500 certificate to Dirt Track Supply.
Ron Anderson opened Dirt Track Supply in his garage way back in 1975. Today the former racer and his son, Trevor, operate the large retail store in Watertown, South Dakota. Dirt Track Supply offers every part needed for a dirt track race car and is also well-known for their own brand of race cars - Arrow Chassis. Ron and Trevor also offer trackside service for their hundreds of loyal customers throughout the WISSOTA region - you can find them every week at Brown County Speedway and Casino Speedway, and they take care of customers at other tracks throughout the season as well.
For a full schedule please visit www.wissotachallengeseries.com/schedule. Series sponsors include Structural Buildings, Dirt Track Supply, Racewest Awards, Joe Provo Race Wear, and MyRacePass.
Structural Buildings is a General Contractor that has been proudly constructing dreams throughout the Midwest since 1985. We design and construct a wide array of building types from post-frame, steel-frame, masonry, stud wall frame, SIP panel, and tilt-up concrete; ensuring our ability to provide the best type of building to meet all of our customer's individual needs. Whether they want an Agricultural, Commercial, Industrial or Residential Building our team has the expertise to exceed all of their expectations.
With 35 years of proven growth, quality buildings, and excellent customer service at every point of contact, we look forward to helping you make your building dreams a reality too! Find us online at www.structuralbuildings.com or call us today at 1(800)535-9722!
---
Submitted By: Carson Gramm
Article Media
Back to News