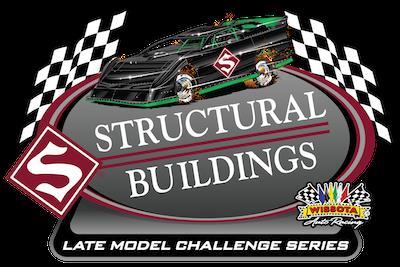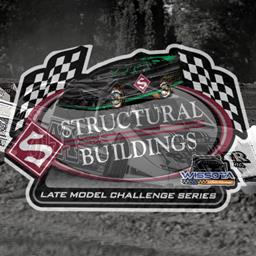 4/29/2021
Wissota Late Model Challenge Series
---
NEW SHOW ALERT: ABC Raceway July 29, 2021
St Augusta, MN (4/29/21) - Structural Buildings WISSOTA Late Model Challenge Series officials are excited to announce the addition of the 19th show to the schedule.
The ABC Raceway in Ashland, WI is adding the Structural Buildings WISSOTA Late Model Challenge Series to the 444 Memorial for Tanner Byholm.
Eric Erickson, President of ABC Raceway stated, "The ABC Raceway is very excited to host the Structural Buildings WISSOTA Late Model Challenge Series again in 2021. With the unfortunate death of Tanner Byholm a group of individuals wanted to host an event in his honor. The 444 Memorial for Tanner Byholm will do just that. Tanner and his dad Bill have been mainstays at the ABC Raceway for many years so Bill presented this idea to us, and we felt to get the best Wissota Late Model driver to attend we needed to partner with Wissota and have this event part of the Challenge Series. The ABC Raceway has hosted the Challenge Series 4 times in the past. This event will be the start of a great weekend of Late Model racing with the Twin 25's at Gondik Law Speedway on Friday and then going to Rice Lake Speedway Saturday. Lots of money will be awarded over the 3 days."
The event is the first of 3 to happen that weekend. The famed Twin 25's will award thousands of dollars in money and contingencies on Friday, July 30 and Rice Lake Speedway will round out the Wisconsin trip with a $12,000 total purse on Saturday, July 31.
ABC Raceway will be honoring the car number of Tanner through the Structural Buildings WISSOTA Late Model Challenge Series purse. Eric Erickson said, "The feature pay will be minimum of $2,444 with the 444 being Tanners car number. The purse is still being set as we are seeking donations along with Bill to have a great pay off for all drivers. We currently have a $444 fast time award for the feature event and will be announcing more about the purse and bonus' as we go."
"Memorial races are always a bittersweet event for the series," said Carson Gramm, WISSOTA Executive Director. "We are honored to be called upon by ABC Raceway to help in remembering and honoring Tanner Byholm."
For a full schedule please visit www.wissotachallengeseries.com/schedule. Series sponsors include Structural Buildings, Racewest Awards, Joe Provo Race Wear, Best Western, Rosebud, and MyRacePass.
Structural Buildings is a General Contractor that has been proudly constructing dreams throughout the Midwest since 1985. We design and construct a wide array of building types from post-frame, steel-frame, masonry, stud wall frame, SIP panel, and tilt-up concrete; ensuring our ability to provide the best type of building to meet all of our customer's individual needs. Whether they want an Agricultural, Commercial, Industrial or Residential Building our team has the expertise to exceed all of their expectations.
With 35 years of proven growth, quality buildings, and excellent customer service at every point of contact, we look forward to helping you make your building dreams a reality too! Find us online at www.structuralbuildings.com or call us today at 1(800)535-9722!
---
Submitted By: Carson Gramm
Back to News