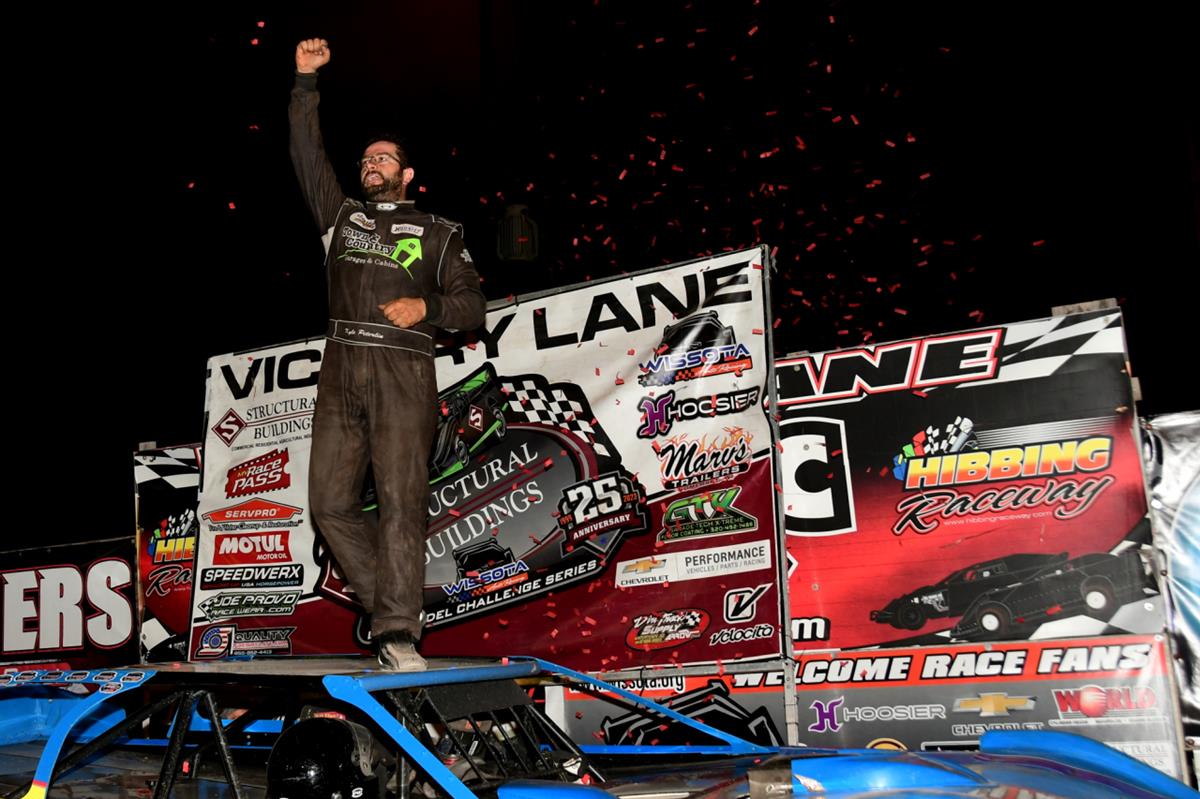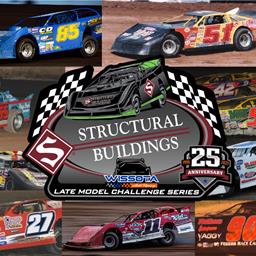 9/5/2023
Wissota Late Model Challenge Series
---
Peterlin Proves Best at Hibbing; Sweeps Labor Day Shootout Weekend
The 2023 season for the Structural Buildings WISSOTA Late Model Challenge Series wrapped up the Labor Day Shootout weekend at the Hibbing Raceway in Hibbing, Minnesota and local driver Kyle Peterlin swept the weekend by racing from the outside of the front row and built up a 0.464 second lead when the checkered flag flew for his second straight $3,000 victory and his third Structural Buildings WISSOTA Late Model Challenge Series victory at his hometown track of the 2023 season.
Gunner Frank started the night by setting fast time with a lap of 13.718 seconds around the tight oval, while Kyle Peterlin, Sam Mars, Zach Wohlers and Jake Redetzke topped the four qualifying heat races early in the night's program. Skeeter Estey won the b-main.
Jake Redetzke and Kyle Peterlin earned the front row for the night's 40-lap, $3,000-to-win feature event with Redetzke getting the upper hand on the initial start from the pole and leading the field into turn number one on the opening circuit.
Redetzke paced the first three circuits with mad scrambles going on behind him until Peterlin was able to get the top rolling and blasted by into the top spot on the fourth circuit and never looked back.
After a pair of quick cautions on laps two and three, Peterlin got to the front and took off, but Massingill moved in on Redetzke quickly for second, while Pat Doar and Sam Mars were in a great battle just behind as well. The field raced two and three wide for the next several laps until the third and final caution flew on lap 11, which kept the field bunched for the final restart.
Peterlin worked back off into the night as the leader with Massingill a close second, while Doar and Redetzke continued their war for third with Mars and Rick Niemi in a good battle for fourth and fifth as well.
The track's lower groove became the place to be around the half way point and every jumped in line and chased Peterlin to the checkered. Massingill crossed the line a close second with Redetzke edging Doar for third and Mars in fifth.
Niemi ran sixth with Zach Wohlers sixth, just ahead of Ryan Mikkelson, who raced from 24th up to 8th. Jeff Provinzino and Ben Heinle rounded out the top ten finishers.
Marcus Dunbar won the WISSOTA Midwest Modified feature, while Shane Sabraski drove off with the WISSOTA Super Stock feature victory. Don Eischens won the Modified feature and Justin Barsness won the Hornet main event to cap off the night.
Full results can be found on MyRacePass.com
The next 2023 Challenge Series event is scheduled for Wednesday, September 13th at the I-94 emr Speedway in Fergus Falls, MN with a 5pm start time.
---
Submitted By: Camryn Sullivan
Back to News