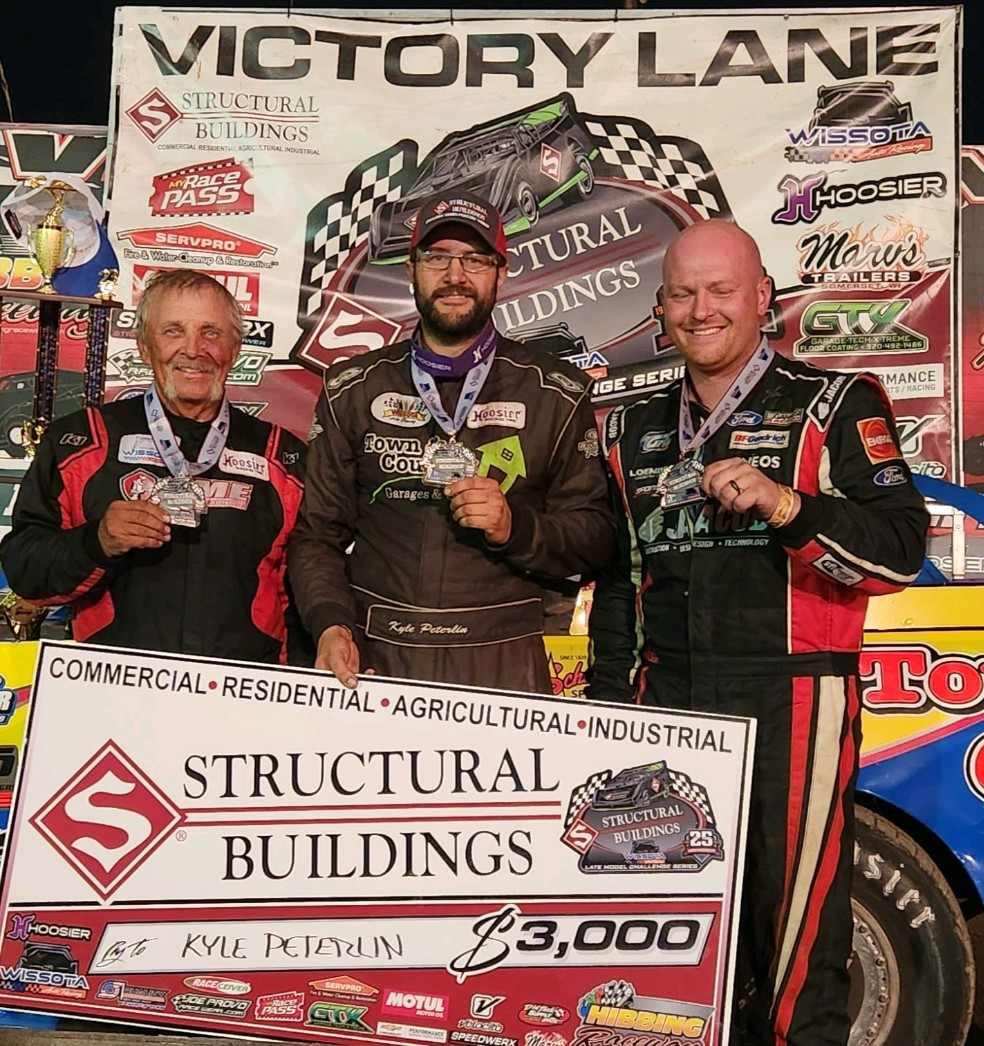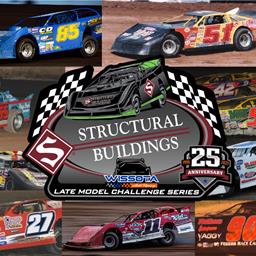 9/5/2023
Wissota Late Model Challenge Series
---
Home Turf Defended - Again! Kyle Peterlin Powers to Hibbing Labor Day Challenge Series Win
The 2023 season for the Structural Buildings WISSOTA Late Model Challenge Series kicked off Labor Day Shootout weekend at the Hibbing Raceway in Hibbing, Minnesota and local driver Kyle Peterlin took the lead on lap ten and after a brief battle with Harry Hanson for a lap, Peterlin blasted away from the field and built up a 2.510 second lead when the checkered flag flew for the $3,000 victory.
Joel Collins started the night by setting fast time with a lap of 13.583 seconds around the tight oval, while Pat Doar, Kevin Burdick, Peterlin and Hanson topped the four qualifying heat races early in the night's program. Jake Redetzke and Kevin Carlson won the twin b-mains.
Harry Hanson and Jeff Massingill earned the front row for the night's 40-lap, $3,000-to-win feature event with Hanson getting the upper hand on the initial start from the pole and leading the field into turn number one on the opening circuit.
Hanson paced the field for the first four laps until the first caution of the night flew for a three-car tangle in turn four. On the restart, Hanson took back off into the lead, but the pace was slowed again a lap later for a Travis Budisalovich flat tire, keeping the field bunched up tight for the second restart of the event.
Hanson took back off into the lead with Peterlin, Vang, Massingill, Doar, Provinzino and Burdick producing several good battles inside the top ten. Back out front, Peterlin was able to slip into the top spot on lap 10, only see Hanson battle back and lead lap 12 before the third and final caution flew.
The final restart of the night saw Peterlin race back to the lead as the track began to clean off on the bottom, making it the fastest way around. Peterlin built up a sizeable lead and raced to the dominating hometown win over Hanson in second. Ryan Mikkelson charged from 9th to complete the podium with his third-place finish, just ahead of Provinzono and Vang in the top five. Darrell Nelson, Doar, Ben Heinle, Massingill and Mark Heinle rounded out the top ten finishers.
Deven VanHouse won the WISSOTA Midwest Modified feature, while Shane Sabraski drove off with the WISSOTA Super Stock feature victory. Johnny Broking won the Modified feature and Justin Barsness won the Hornet main event to cap off the night.
Full results can be found on MyRacePass.com
The next 2023 Challenge Series event is scheduled for Sunday, September 3rd at the Hibbing Raceway in Hibbing, MN with a 5pm start time.
---
Submitted By: Camryn Sullivan
Back to News