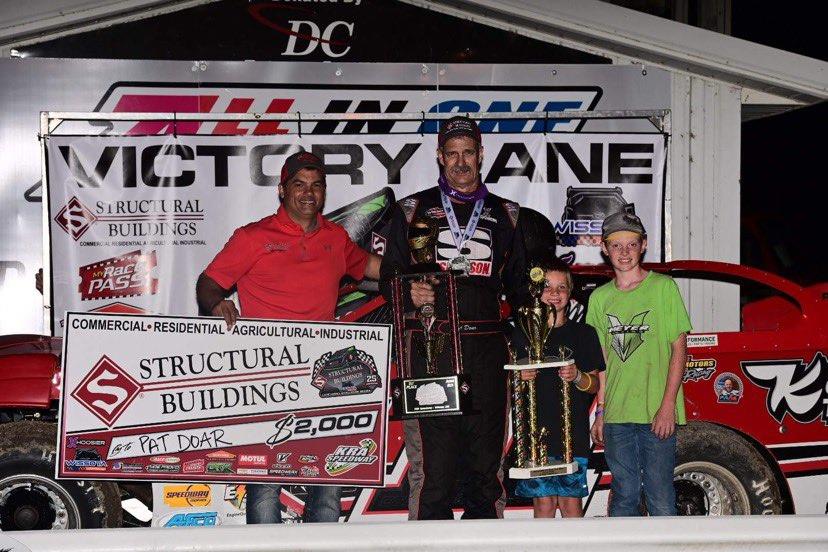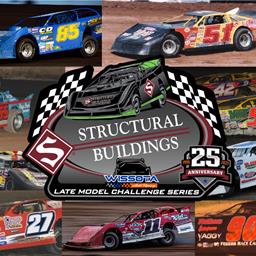 6/9/2023
Wissota Late Model Challenge Series
---
Scoring His 300th Career Wins, Doar Tops Inaugural KRA Challenge Series Stop
For Immediate Release – June 8th, 2023
The 2023 season for the Structural Buildings WISSOTA Late Model Challenge Series got back to action with the first of a four-night Western Minnesota-Eastern South Dakota swing on Thursday, June 8th with the series' first ever stop at the KRA Speedway in Willmar, Minnesota.
Multi-time series champ John Kaanta set a new track record with a lap of 16.476 seconds around the third mile oval to start the night before rookie Daniel Bargender, Sam Mars and Pat Doar completed a Wisconsin-sweep of the three qualifying heat races.
Series point leader Darrell Nelson and Doar paced the 40-lap feature field to green with Doar taking early control over Nelson and third starting Mars on the opening lap. Doar lead the first four circuits until the event's first caution flew bunching the field back up. Several more cautions flew within the first ten laps, keeping the field tight to Doar's rear bumper and on every restart, Nelson and Mars would put on the best battle for position, swapping the runner up spot several times as Doar lead out front.
As the laps began to wind down, Doar built up a comfortable lead, but Nelson was able to cut into it during the final ten circuits, keeping the 11 car in his sights. Nelson was able to close to within several car lengths, but it wasn't enough to challenge Doar for the win. Doar raced to his milestone 300th career feature victory and his series high 38 Challenge Series career win. Nelson crossed the line in second with Mars, Ryan Mikkelson and Jake Redetzke rounding out the top five. Unfortunately, Redetzke didn't go directly to the tech area and was stripped of his fifth-place finish, elevating Don Shaw to a top five run. Mikkelson's fourth place finish was enough to win the night's Hard Charger award.
Kolton Brauer won the WISSOTA Street Stock feature, Zach Johnson won the WISSOTA Modified main event and Jared Kelm won the Pure Stock feature event to wrap up the night.
Full results: https://www.myracepass.com/events/455676/races
The next 2023 Challenge Series event is scheduled for Friday, June 9th at the Fiesta City Speedway in Montevideo, MN with a 7pm start time.
---
Submitted By: Camryn Sullivan
Back to News