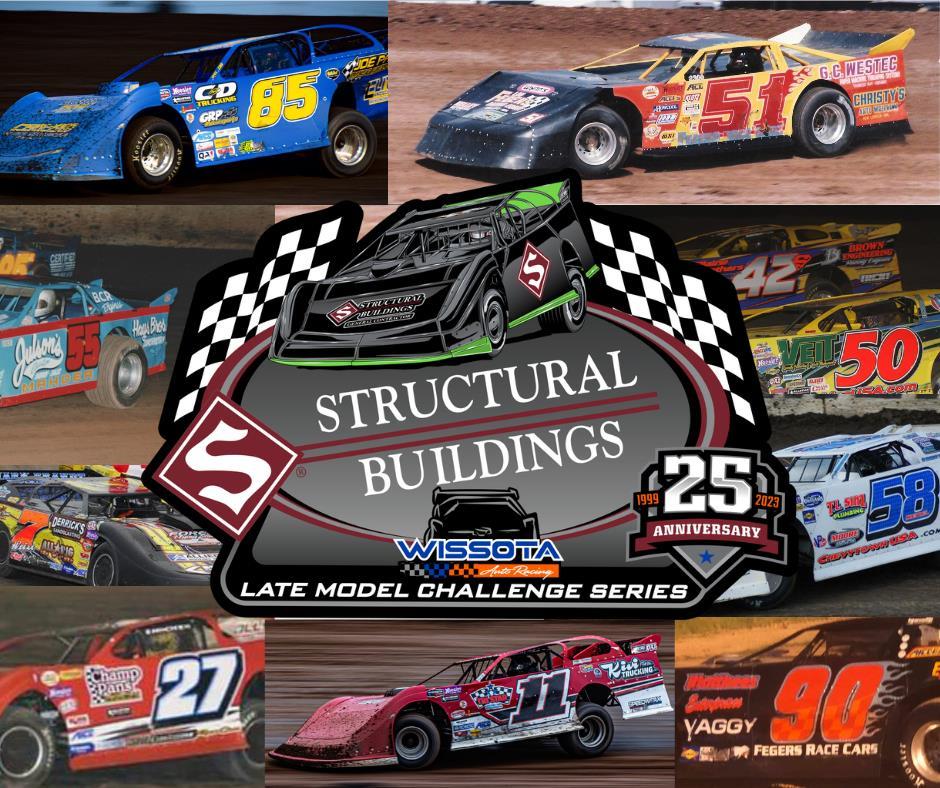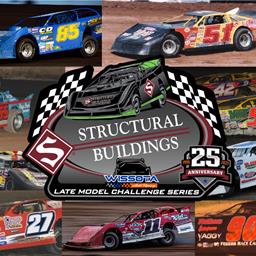 3/17/2023
Wissota Late Model Challenge Series
---
2023 Brings Exciting 25th Anniversary to the Structural Buildings WISSOTA Late Model Challenge Series
(St. Cloud, Minnesota) March 17th, 2023 -
The silver anniversary season of the WISSOTA Late Model Challenge Series goes green in 2023 and will feature one of the biggest and best schedules yet as the road warriors of the Structural Buildings-backed WISSOTA Late Model Challenge Series tackle twenty events at 14 tracks across three states to determine the $10,000 champion at series' end.
Sand Creek, Wisconsin's Mike Goodremote won the first ever Challenge Series event back on May 8th, 1999 and since then sixty more drivers have notched at least one Challenge Series victory heading into the 25th anniversary season.
New Richmond, Wisconsin's Pat Doar leads all drivers with 36 career Challenge Series victories, just four ahead of Elk Mound, Wisconsin's John Kaanta, who owns 32 career series wins. Jake Redetzke and AJ Diemel are tied for third on the all-time series win list with fifteen wins a piece, ahead of Jimmy Mars, who has thirteen series triumphs and sits fifth on the all-time win list.
Kaanta also sits atop the all-time champions list with 6 series titles to his credit, with Doar owning five series championships. Redetzke and Lance Matthees are the only other drivers to have multiple series titles during the first twenty-four years of the tour, each driver with two series championships on their resume.
Other series champions include: Duane Mahder, Joel Cryderman, Jeff Wilding, Zach Johnson, Ricky Weiss, Diemel, Darrell Nelson and the 2022 champ Cole Searing.
The 2023 series season of the Structural Building WISSOTA Late Model Challenge Series fires off on Friday and Saturday, May 19th and 20th with a Minnesota doubleheader featuring a $5,000-to-win lid lifter at the I-94 emr Speedway in Fergus Falls, MN and then a $2,000 top prize awaits the victor on Saturday night at the Ogilvie Raceway in Ogilvie, MN in what should be a very popular opening weekend for the WISSOTA-sanctioned series.
For more information, log on to www.WISSOTAChallengeSeries.com.
---
Submitted By: Camryn Sullivan
Back to News