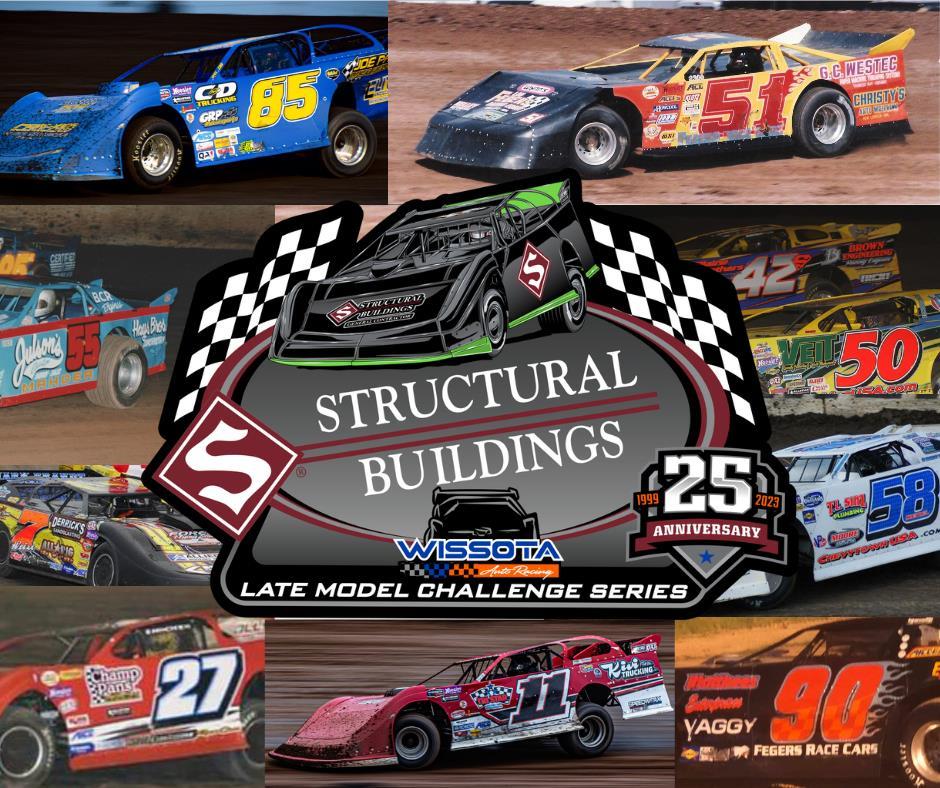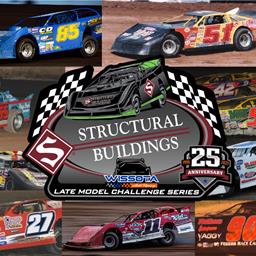 8/30/2023
Wissota Late Model Challenge Series
---
Challenge Series to Embark on Busy Labor Day Weekend Schedule
The silver anniversary of the Structural Buildings WISSOTA Late Model Challenge Series rolls into a busy Labor Day weekend with four events this coming long weekend at the Halvor Lines Speedway in Proctor, MN on Thursday night as part of the 51st annual Silver 1000, before heading to the Grand Rapids Speedway in Grand Rapids, MN on Friday night for the 29th annual WISSOTA Classic. The series will then head to the Hibbing Raceway in Hibbing, MN for both Saturday and Sunday nights as part of the traditional 45th annual Labor Day Shootout weekend.
Halvor Lines has hosted 7 previous Challenge Series events with no driver ever repeating as a series winner in Proctor thus far. Steve Laursen (2000), AJ Diemel (2006), Darrell Nelson (2016), James Giossi (2018), Pat Doar (2019), Travis Budisalovich (2021) and Jimmy Mars (2022) have all picked up series victories at 'The Rock' heading into this year's Silver.
Grand Rapids has hosted three prior series events with Jeff Provinzino winning twice during back-to-back years in 2011 and 2012 and AJ Diemel also racing to a win in 2019.
Hibbing is only one of four tracks that has hosted 20 or more series events, hosting exactly twenty prior Challenge Series stops with Pat Doar topping the win list with four wins in 2008, 2010, 2018 and 2019, with Kyle Peterlin winning three times in 2018, 2019 and earlier this year. Darrell Nelson is the only other multi-time winner, winning in 2021 and 2022 with AJ Diemel (2006), Steve Vesel (2007), Gregg Hill (2009), Tommy Waseleski Jr. (2011), Justin Fegers (2012), Harry Hanson (2016), Jake Redetzke (2016), Jeff Provinzino (2017), John Kaanta (2017), Jay Kintner (2021) and Travis Budisalovich (2022) picking up wins along the way.
Pat Doar leads the current series point standings heading into the weekend by 83 markers over Jake Redetzke with five events remaining on the 2023 series schedule. Jeff Massingill is third, Sam Mars is fourth and John Kaanta rounds out the top five in the current standings.
Racing is schedule to begin at 7pm on Thursday, at 6:30pm on Friday and at 5pm on both Saturday and Sunday nights. All four events will be livestreamed on WISSOTA.tv for those unable to be at the track in person to enjoy the action.
---
Submitted By: Camryn Sullivan
Back to News