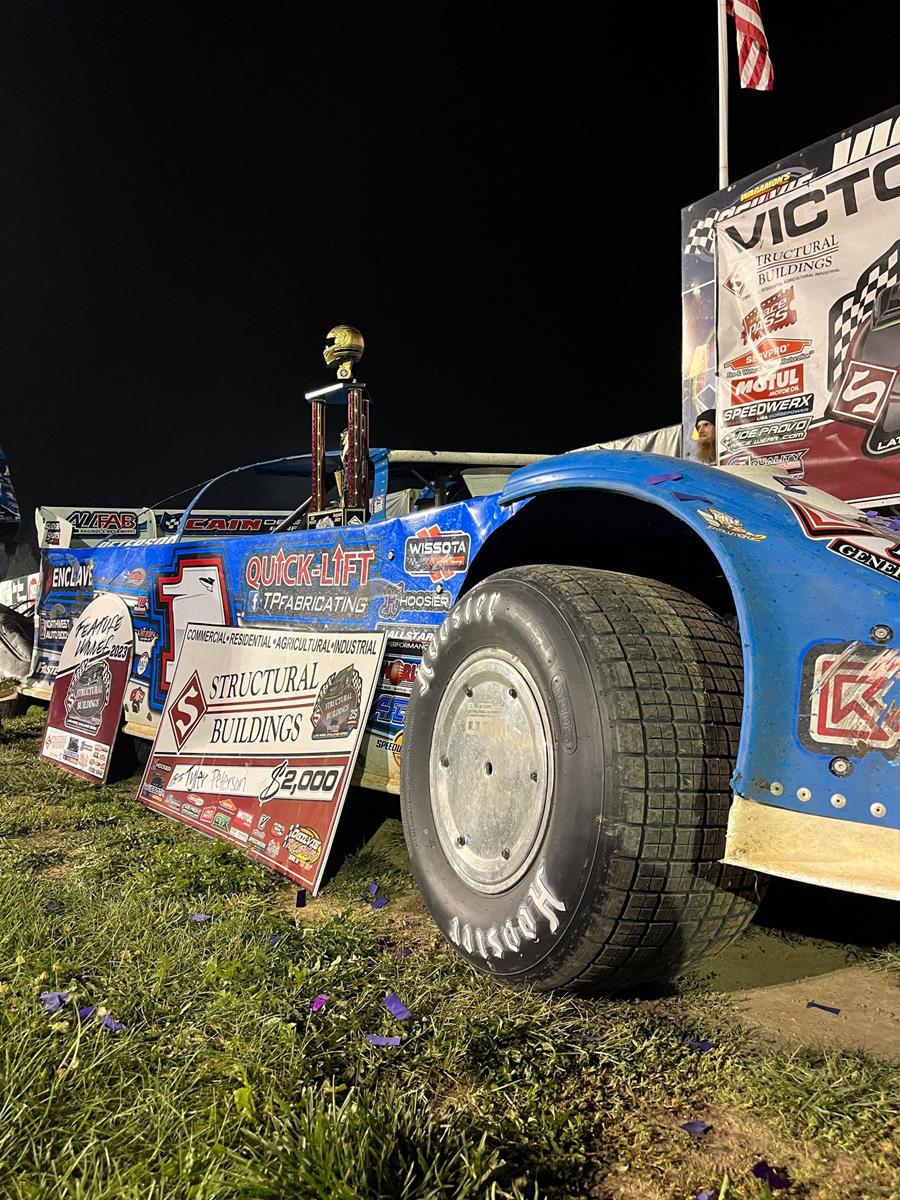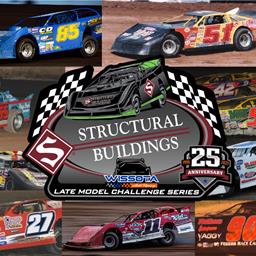 8/30/2023
Wissota Late Model Challenge Series
---
Peterson Stays Perfect with Big O Challenge Series Victory
The 2023 season for the Structural Buildings WISSOTA Late Model Challenge Series rolled into the Ogilvie Raceway in Ogilvie, MN for the third time during the '23 season and Hickson, North Dakota's Tyler Peterson stayed unbeaten, racing to his third Challenge Series victory of his career in just his third start of the season.
CMD Shock the Clock Winner Don Shaw earned the MyRacePass pole with series point leader Pat Doar sitting alongside Shaw on the front row for the start of the 40-lap event. Shaw took the lead on the opening lap and lead the first circuit before third starting Peterson powered by on the low side and took the top spot on the second lap. Once out front, Peterson tried to drive off, while Doar and Shaw battled for second, while Ryan Mikkelson and John Kaanta battled just behind.
Peterson was working away from the field as battles were fierce behind with Jeff Massingill moving in on Doar for third, while Andy Jones and Cole Schill were in the mix as well. The battle for the lead began to heat up on lap 11 as Massingill dove to the inside of Peterson for the lead with Jones along side as well. The trio raced three-wide for the top spot on laps 14, 15 and 16 until the first caution flew for debris, slowing the field and bunching everyone back up behind Peterson out front.
On the restart, Peterson quickly built up a sizeable lead out front until the second of three caution flags flew for debris in turn four on lap 21.
On the second restart, Peterson once again took off with Doar and Mikkelson racing side by side for third, just behind Massingill, who was solidly in second.
The third and final caution of the event flew on lap 28 for debris as Doar slapped the wall and ripped part of his spoiler off in turn two. Peterson went on to lead the final twelve laps uncontested to his third Challenge Series win of the season with Massingill crossing the line second, just ahead of Mikkelson in third. Doar and Jones rounded out the top five finishers as the checkered flag flew.
Doar, Kaanta and Mikkelson won qualifying heat races to start the night, while Danny Bargender won the Speedwerx Hard Charger, advancing 13 spots from 22nd to 9th, Peterson was the GTX Rookie of the Race and Patrick Kelley won the Dirt Track Supply Hard Luck Award on the night.
JT Johnson won the WISSOTA Modified feature. Shane Sabraski won the WISSOTA Super Stock feature. Mark Froehlich won the WISSOTA Midwest Modified feature. Hunter VanGilder won the WISSOTA Street Stock feature. Dustin Holtquist won the WISSOTA Mod 4 feature. Payson Patrin won the WISSOTA Hornet feature.
Full results can be found on MyRacePass.com
The next 2023 Challenge Series event is scheduled for Sunday, August 27th at the Granite City Motor Park in Sauk Rapids, MN with a 6pm start time.
---
Submitted By: Camryn Sullivan
Back to News