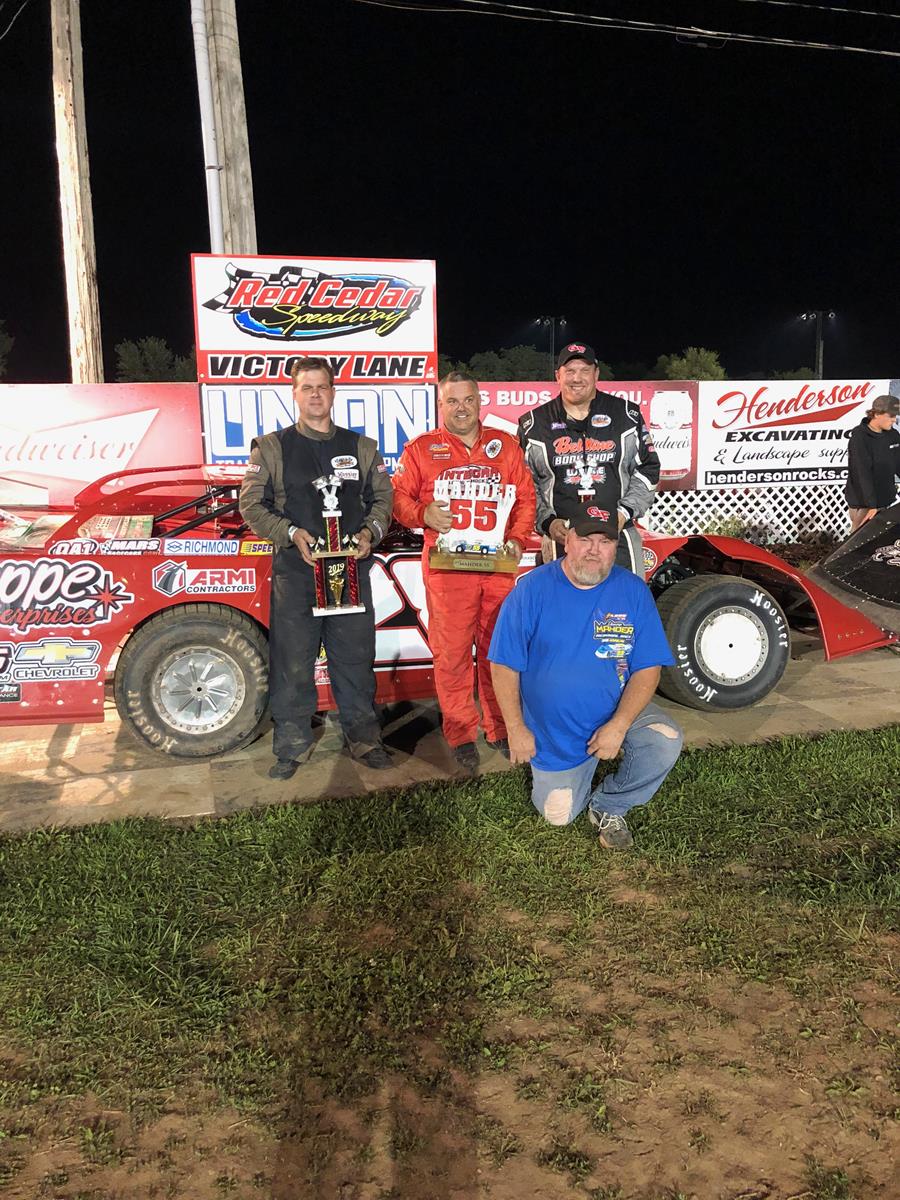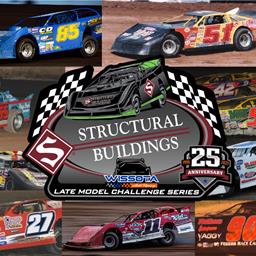 8/18/2019
Wissota Late Model Challenge Series
---
Mars Remains the only Winner of the Mahder 55 Memorial
St Augusta, MN (August 18, 2019) – The Wollak Construction WISSOTA Late Model Challenge Series drivers invaded the Red Cedar Speedway in Menomenie, WI for the 3rd Annual Madher 55 Memorial.
The stellar field of 29 cars filled 3 heat races where each driver battled it out for the QA1 passing points champion award. The Joe Provo Racewear heat race was won from the front row by the number 28 MB Customs car driven by Jimmy Mars, but the story of that heat race was the hard charging Jake Redetzke in the white Champ Pans number 27 car. Redetzke would pass 5 cars in his quest for his third straight QA1 passing points championship award. The 31 year old driver out of Eau Claire, WI drew outside 2nd row in the MyRacePass redraw. The top 5 was rouned out by Travis Budisalovich, Ben Hanke, and Buddy Hanestad.
Dirt Track Supply heat race number 2 was won by Elk Mound, WI driver John Kaanta from his 4th place starting spot. Fresh off an injury, Lance Matthees, fought off the hard charging Mike Prochnow for a 2nd place finish. Pat Doar and Mike Nutzmann rounded out the top 5 in the Dirt Track Supply heat race.
Richmond Gear heat race number 3 had your top 2 in Wollak Construction WISSOTA Late Model Challenge Series points in it. Jesse Glenz was able to pick up the win follow closely by Rick Hanestad. Current points leader, A.J. Diemel, brought home a 4 place finish in the Richmond Gear heat race, but was unable to get around the local favorite, Chad Mahder, in the 55C machine. Mahder's 55C had a tribute paint scheme in honor of Chad's father, Duane Mahder. The iconic blue 55 brought many people joy and brought back all the great memories of years past. The top 5 was rounded out by Timothy Isenberg in the white 9T.
The 55 lap Wollak Construction WISSOTA Late Model Challenge Series feature race saw 25 drivers start and run 25 laps without a caution before a planned fuel stop at lap 25. The action packed multi lane race track provided the packed grandstands with great side by side racing all around the 3/8ths mile. Madher put on quite the show as he drove from 12 to just break into the top 5 with a 4th place finish. The Speedwerx Hard Charger award went to the 19 of Steve Laursen as he came through the b-main to start 21st and finish 11th just missing the top 10. The story of the night though was the dominance showed by Mars as he started on the pole and never looked back. He did get some pressure from Diemel and Doar through the middle part of the race, before Doar hopped the cushion and fell back to 7th on a late race restart. Rick Hanestad was able to shake off the bad luck and pick up a much needed top 3 finish just behind Diemel. The rest of the top 5 was rounded out by Mahder and Matthees.
Your current points standings look like this leading into the final two weekends and 7 races. Leading the points is the #58 of A.J. Diemel, who is 34 points ahead of Pat Doar in the #11. Doar is just edging out Jesse Glenz by 2 points for the 2nd place spot, and Glenz is followed by Redetzke and Kaanta, who are separated by only 6 points. Follow along with the current poin standings online at www.wissotachallengeseries.com, in All The Dirt! Racing News, or on the MyRacePass mobile app. Next up for the Wollak Construction WISSOTA Late Model Challenge Series is a three race weekend on August 23, 24, & 25 in central Minnesota at Ogilvie Raceway on the 23rd and 24th and Granite City Speedway on August 25th.
28-Jimmy Mars, [1]; 2. 58-A.J. Diemel, [5]; 3. 71-Rick Hanestad, [3]; 4. 55C-Chad Mahder, [12]; 5. 90-Lance Matthees, [2]; 6. 68-Mike Prochnow, [7]; 7. 11-Pat Doar, [9]; 8. 7X-Jesse Glenz, [6]; 9. 85-John Kaanta, [8]; 10. 27-Jake Redetzke, [4]; 11. 19-Steve Laursen, [21]; 12. 70-Justin Ritchie, [19]; 13. 55N-Greg Nippoldt, [18]; 14. 31-Michael Keller, [17]; 15. 31X-Travis Budisalovich, [10]; 16. 9T-Timothy Isenberg, [14]; 17. 23-Kyle Peterlin, [20]; 18. 2-Mike Nutzmann, [16]; 19. B0H-Ben Hanke, [11]; 20. 03-Kyle Raddant, [23]; 21. 7C-Jim Carlson, [22]; 22. (DNF) 1-Kevin Eder, [13]; 23. (DNF) 14-Robbie Johnson, [24]; 24. (DNF) 71JR-Buddy Hanestad, [15]; 25. (DNF) 6M-Jeffrey Massingill, [25]
WOLLAK CONSTRUCTION
Successfully building a home doesn't happen by accident. The contractor you choose will make all the difference in building and, consequently, living in your home. Wollak Construction takes a unique approach to custom building and remodeling. Owner Ernie Wollak says "After construction has started I like to keep my customers up to date on the construction process and answer any questions the homeowner may have." The involvement of the homeowner in the planning process as well as during the construction is a philosophy that Wollak Construction is based on.
If you are considering a home construction project in central Minnesota, and want to have a fantastic experience building your next home, Go with Wollak Construction, which has been serving people in the region for more than 15 years.
You can find more information online at www.wollakconstruction.com.
WISSOTA Auto Racing exists to enhance safe and successful dirt track racing through unified, cost effective rules and procedures enacted in a democratic environment. To find a WISSOTA Auto Racing member track near you visit wissota.org.
---
Submitted By: Carson Gramm
Article Media
Back to News