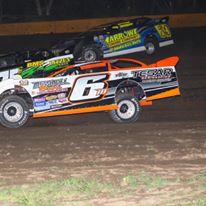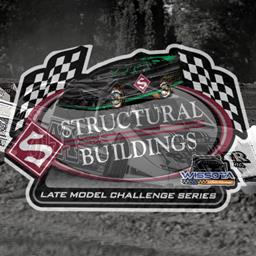 7/1/2016
Wissota Late Model Challenge Series
---
43 Drivers Still In The Hunt For OneMain Challenge Series Title
With the Month of June in the books for the OneMain WISSOTA Late Model Challenge Series presented by Richmond Gear, there are 43 drivers still in the running for the Challenge Series point fund that will again pay over $30,000 in cash to the top 10 drivers.
In just 15 days the OneMain Challenge Series will again land at Rapid Speedway. The speedway located in Rock Rapids Iowa will be offering $2,000 to win for the main event and $200 to start. We welcome all WISSOTA Late models to take part in this event. Any other sanctioned late models that would like to attend should contact Bill Engelstad (218-208-7844) or bill@wissota.org for more information on what will be required to make your car WISSOTA Legal for the event.
Drivers who attend this event will also be eligible for several contingency awards from Series Sponsors QA1 Motorsports, Outpace Racing Products, Wehrs Machine and Racing Products, Lou Fegers Racing Equipment, Joe Provo Racewear, MyRacePass.com, Dirt Track Supply, and Allstar Performace.
The following drivers have not missed more than 1 series event and are qualified for the point fund.
28 Jeff Provinzino Hibbing MN 112
7K Jason Krohn Slayton MN 110
27 Jake Redetzke Eau Claire WI 106
18 Curt Gelling Aberdeen SD 98
7W Ricky Weiss Headingley MB 98
90 Lance Matthees Winona MN 97
50 Jeff Wildung Nassau MN 97
58 A. J. Diemel Elk Mound WI 94
12 Chad Becker Aberdeen SD 91
55C Chad Mahder Eau Claire WI 91
11 Pat Doar New Richmond WI 90
6M Jeffrey Massingill Keewatin MN 90
22B Gary Brown JR. Brandon SD 86
52X David McDonald Huron SD 84
19 Marshall Fegers Savage MN 84
2S Josh Skorczewski Aberdeen SD 82
38 Jordan Heiman Sioux Falls SD 80
1QT Brian Diede Huron SD 79
44 Cole Schill Fargo ND 77
22 Corey Nelson Canby MN 76
23 Matt Gilbertson Montevideo MN 76
4 Shane Edginton East St. Paul MB 73
51B Nate Beyenhof Rock Rapids IA 69
19 Steve Laursen Cumberland WI 66
06 Dave Smith Edmonton AB 62
1 Dusty Peterson Fargo ND 61
75S Mike Jager (R) Gettysburg SD 53
44 Eric Mass Rapid City SD 52
81 Mike Stadel Rapid City SD 51
10X Blake Swenson Watertown SD 49
17J John Winge Sioux Falls SD 48
37 Scott Ward Watertown SD 46
10K Shawn Kirwin Morris MN 43
86 Matthew Smith Edmonton AB 42
28 Kelly Duffy Winner SD 33
777 Aaron Krohn Slayton MN 31
3X Lyndon Bolt Rapid City SD 31
9 Kent Arment Aberdeen SD 30
22X Cale Berry (R) Carver MN 29
1B Scott Borkowski Mitchell SD 29
10TOO John Hoefert Sioux Falls SD 28
21XC Joel Collins Princeton MN 28
---
Submitted By: Craig Sullivan
Back to News